Audiocadabra Optimus4 Solid-Copper Double-Shielded Coaxial Cables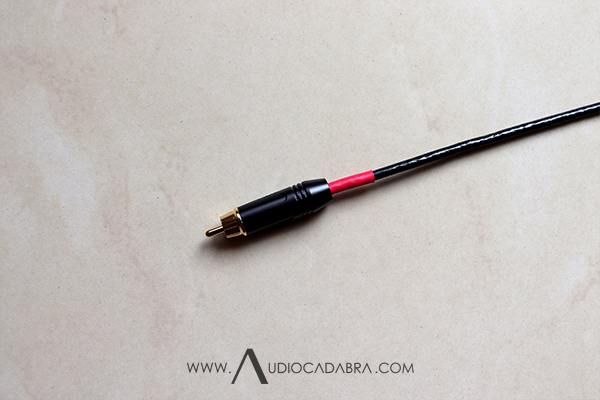 Choose multiple lengths for the same base price! Free upgrade to expedited shipping on purchase of any 02 products in the same order! RCA plug colors are subject to change without notice due to product enhancement!
Buy the Audiocadabra Optimus4 Solid-Copper Double-Shielded Coaxial Cable for just USD 79 (was USD 99) apiece. Each additional 0.5 m is USD 00 (was USD 30). Kindly select from the options listed below before adding to cart:
We believe that there is no such thing as a 'neutral sounding cable'; every audio cable is a balance between performance and penalties—this balance is determined by wire geometry, material science and mechanical construction. Our pursuit with the 4th-gen Audiocadabra cables is to minimize coloration and optimize performance using wire geometries that maximizes EMI immunity, premium custom materials that enhances performance and designs that enables meticulous craftsmanship. All of these improvements makes our custom handcrafted cables extremely quiet, effortlessly clear and tonally delightful.
In order to set a benchmark performance, all materials used in our products are meticulously manufactured to specifications and are available exclusively from us. The Audiocadabra Optimus4 Solid-Copper Double-Shielded Coaxial Cables use wire geometry, construction techniques and custom materials that ensure perfect electrical parameters – low capacitance, rejection of crosstalk, shielding from interferences and perfect characteristic impedance—thus preserving neutral spectral balance atypical of cables found at this price point.
The Audiocadabra Optimus4 Solid-Copper Double-Shielded Coaxial Cables make 360-degree contact with the inner shield to maintain the impedance of the cable at the termination point, thereby reducing jitter. The advanced double-shielding technology used in the Audiocadabra Optimus4 cables ensures one of the lowest noise floor of any digital coaxial cable on the market resulting in a velvet black background to the music.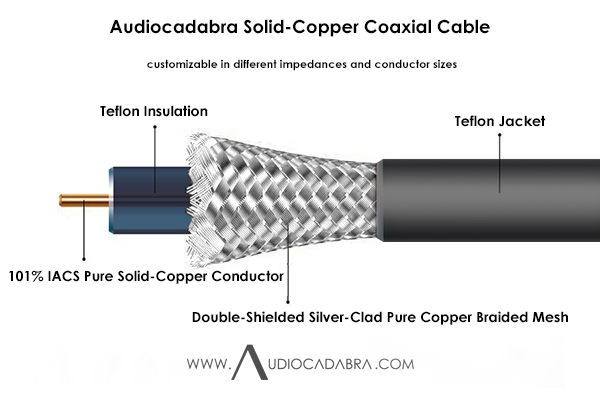 High-lights
Why the Audiocadabra Optimus4™ Solid-Copper Double-Shielded Coaxial Cables are ideal:
Hi-res 75-ohm solid-Copper coaxial cables for digital audio (SPDIF) applications.

4th-gen version of the original Optimus series.

Low capacitance design for superior performance.

24K gold-clad copper-alloy RCA connectors for superior electrical contact.

Soldered meticulously with minimal American made audio-grade solder.

101% IACS pure solid-copper center conductor sheathed in Teflon.

Double shielded with silver-clad copper braid for superior RFI immunity.

Teflon dielectric manufactured and sheathed to specification.

Carefully selected wire geometry & mechanical construction for optimum signal flow.

Ideal for any stereo or multi-channel digital audio application.

These are not the same as fancy looking and lesser performing cables.

These cables sound more open & transparent than expensive mass-market brands.

Designed for hi-res audio playback.

Instantly improves your home and desktop audio experience.

SuperClear coaxial cables that is faithful to the original signal.

Eligible for future upgrades and regrades.

Lifetime warranty, just post back for repairs.

Free worldwide shipping.
Shipping
Enjoy free worldwide shipping with this order. This order qualifies for a free shipping upgrade to Express Mail Service (EMS). This free upgrade is valid only for countries covered by EMS. Faster shipping upgrades are available and can be selected using this—LINK.
Kindly contact us, should you need any further information about any of our products, using this—LINK.