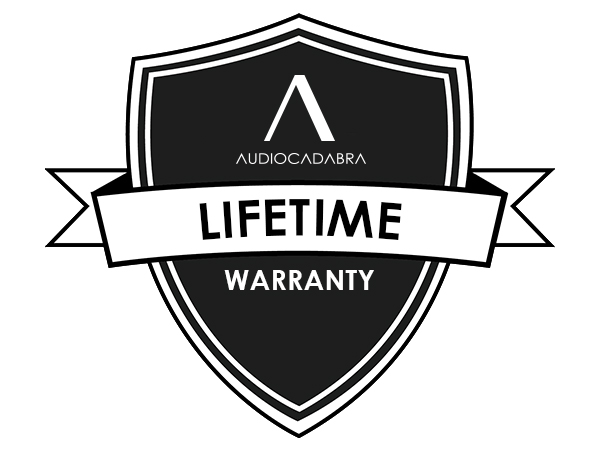 All Audiocadabra™ branded products are designed and crafted to give you a lifetime of listening pleasure. Audiocadabra warranty includes a lifetime of aftersales support and service. If your purchase proves to have manufacturing defects on delivery, Audiocadabra will provide without charge the parts and labor to remedy any such defect. Returns or repairs are applicable as stated in the product listing. Shipping and any other fees that may apply such as customs/courier brokerage etc. to be borne by the customer.
Damage due to unwise handling/an accident can be repaired by contacting us and obtaining a return authorization. Once we receive the product, we will inspect the damage, provide you with an estimate that will include the cost of any required materials, labor charge and shipping fees. Our standard labor rate is USD 30 per hour and worldwide EMS shipping charge is a flat rate of USD 29.
Exceptions to this policy apply to products that have been intentionally damaged, taken apart or modified. Any signs of misuse or abuse will automatically void any and all warranty privileges. The warranty applies to the original purchaser of the goods and is not transferrable.
We are constantly trying/developing new innovative handcrafted products and we also make improvements based on our customer's feedback. Our products' specification are subject to change without notice to improve reliability, function, design or otherwise. Audiocadabra reserves the right to make changes in design and improvements upon its products without assuming any obligation to install such changes upon its products previously manufactured. No other warranty may be implied.
For any queries kindly contact us and we are more than happy to assist you.