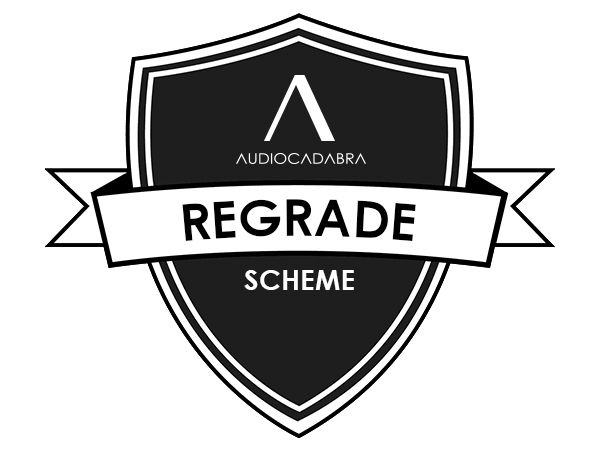 We understand that you don't want to waste the money you've invested in your audio cables, so we offer up to 60% trade-in value, of what you paid, when you return your used/old Audiocadabra cable and regrade to a new, higher grade, Audiocadabra cable.
We suggest that you order your new cable, only after getting a trade-in approval and quote from us via email, to be able to compare it with your existing cable for total satisfaction. When you are satisfied with your regrade, send your original cable back to us, at your leisure, as per detailed mailing instructions that will be emailed to you.
Trade-in values for standard cable lengths:
Regrade your cables within one year: Receive up to 70% of what you paid.
Regrade your cables within two years: Receive up to 60% of what you paid.
Regrade your cables over two years: Receive up to 50% of what you paid.
Non-standard cables (lengths and terminations which are not listed in our catalog) receive 10% lower trade-in value. So, for example, if you regrade a cable that you bought within 2 years you will receive up to 40%, rather than 50%, of the original purchase price.
By 'Regrade' we mean 'like for like' (e.g. from a pair of Maximus Analog RCA Cables to a pair of Optimus Analog RCA Cables or a Optimus Dual-Headed USB cable to Ultimus Dual-Headed USB cable), with the new cable being of a higher quality than the old cable and of similar configuration.
The trade-in value is determined by the age of the product, originally purchased, and is adjusted against the list/regular price and not the selling price (which may/may not include a discount) of the new product being regraded to.
Exceptions to this policy may apply with certain orders. Approval/disapproval of the trade-in offers are strictly discretionary and our decision is final.
For any queries kindly contact us and we are more than happy to assist you.