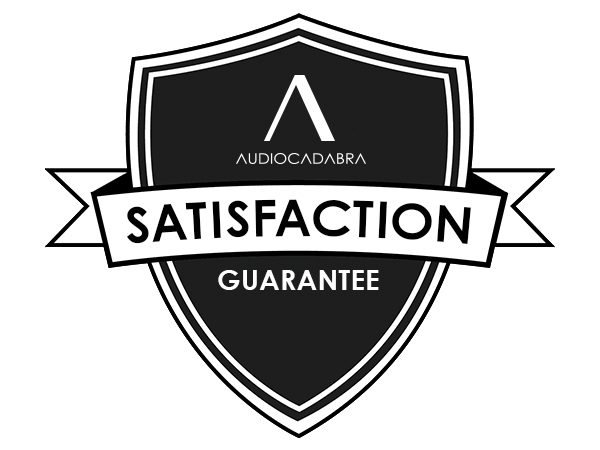 When you buy from Audiocadabra™ you are guaranteed to pay less for more. Our prices are simply unmatched! If you see any products listed at a lower price, elsewhere, kindly contact us and we will try our best to price match or counter offer a better deal.
If any of our professionally handcrafted products do not meet your expectations in any way, you may exchange/return them within 14 days of receipt. Regretfully, we cannot take back special custom made orders in irregular variation/specification, lengths/colors, discounted/sale items, upgraded/regraded products, pre-cut/bulk wire spools or incorrectly placed orders. Orders that do not qualify for a return however qualifies for an exchange if the product is damaged/defective. In order to enjoy our money-back guarantee you may also buy our products, that are on sale, at its full retail value.
Exchanges/returns must be approved by email before they are shipped back to us. Our return authorization is valid for a month from the date of approval. Returns are expected to reach us before the authorization expires in order for us to be able to exchange/issue a refund. Returns that reach us after the authorization expiry will be rejected.
When returning, please return orders in their original packaging and in factory condition. Great care is taken to prevent physical and cosmetic damage to the goods when they are shipped to you. We expect the same consideration by asking you to use the same internal packaging as originally delivered (including the bubble wrap, invoice and label). Returns that do not follow this condition will be rejected, or will be subject to a minimum 20% restocking fees, at our discretion. Items valued over USD 300 must be sent back insured, or you will be at risk for the loss/damage.
International returns must be sent via Postal Service and not through any private courier such as UPS, DHL or FedEX. If shipped via private courier, refund will be delayed and customs and/or courier brokerage fees will be deducted from the refund amount. Shipping fees, import fees, restocking fees and PayPal fees (when applicable) to be borne by the customer.
Orders may be cancelled via email, without penalty, within 12 hours from ordering. Orders cancelled during processing time or before shipping may attract a minimum 40% cancellation fees depending on what stage the order is. Refunds will be processed within 10 working days after receipt of returns/cancellation of order placed.
When you consider buying any product from us, a formal consultation via email is recommended, to ensure that the products are right for your system and we will provide the benefits that you seek. Please remember that all the products, listed on our website, are handcrafted and customized to your system and specifications. Please review your system carefully, measure your cable lengths carefully, before ordering.
Kindly contact us if you have any queries regarding our money-back guarantee and we are more than happy to assist you.