Audiocadabra Xtrimus CA2405 Solid-Silver CoAxial Cables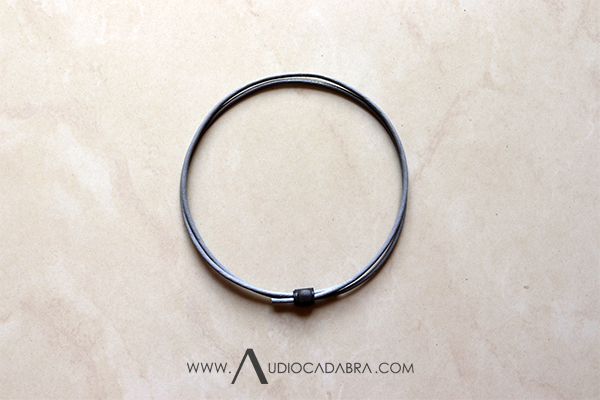 Buy the Audiocadabra Xtrimus CA2405 Solid-Silver CoAxial Cables for just USD 10 per foot. Kindly select from the most popular options listed below before adding to cart:
Set the tone of your listening experience with Audiocadabra™ custom handcrafted SuperClear™ Cords and SuperQuiet™ cables! We are delighted to present the Audiocadabra Xtrimus4 CA2405 Solid-Silver CoAxial Cables, our 4th-Gen cables, that are custom manufactured with carefully selected 106% IACS pure solid-silver conductors individually sheathed in Teflon dielectric, double braid-shielded, tuned using only the finest quality materials and standards in the industry. You will not find better quality pure solid-silver coaxial cables at this value anywhere! It is now available to the DIY community and audio cable manufacturers.
We believe that there is no such thing as a 'neutral sounding cable'; every audio cable is a balance between performance and penalties—this balance is determined by wire geometry, material science and mechanical construction. Our pursuit with the 4th-gen Audiocadabra cables is to minimize coloration and optimize performance by using wire geometries that maximizes RFI immunity, sourcing premium custom materials that enhances performance and incorporating proven extreme designs that also enables meticulous craftsmanship. All of these improvements ultimately makes our custom handcrafted cables extremely quiet, effortlessly clear and tonally delightful.
In order to set a benchmark performance, all materials used in our products are meticulously manufactured to specifications and are available exclusively from us. The 106% IACS pure solid-silver conductors used in the Audiocadabra Xtrimus Solid-Silver CoAxial Cables are meticulously drawn through special dies and follows special handling standards to minimize any surface marring, before the insulation process begins. Our unique Teflon insulation method is very difficult to implement, and has taken several years to perfect, achieves a dielectric constant of less than 2.0. By comparison, most mass-market cables use PVC and other fancy materials with dielectric constants of up to 4.0.
The Xtrimus Solid-Silver CoAxial Cables' wire geometry with double braid-shielding technology is ideal for EMI and RFI immunity, a superior dampening mechanism is in-built to reduce mechanical vibrations and when used with apt grounding strategies ensures one of the lowest noise floor of any audio cables, regardless of price, resulting in a velvet black background to the music. Designed to delight both studiophiles and audiophiles alike.
Audiocadabra Xtrimus CA2405 Solid-Silver CoAxial Cables are perfectly suited for your high-end audio needs with an insulation that is easy to work with and can be customized with a choice of Teflon colors, voltage rating and cryogenic treatment (if need be at additional cost) to suit your audio project needs. These studiophile grade solid-silver cables can be made available in pre-cut lengths of 13.1 ft (4.0 m), 26.3 ft (8.0 m) or custom lengths on request.
Kindly contact us, should you need a custom length that suits your requirement better, using this—LINK.
* For illustrative purposes only, actual product may vary, due product enhancement.
Specifications
Customization options are available to suit your business needs for MOQ of 30 m (98 ft.) or longer:
Dielectric Strength – 250v AC.
Jacket Color – Grey.
Nominal Impedance – 50 Ohms.
Conductor Size – 24 AWG.
Braid Shielding – Double-shielded silver-clad 101% IACS pure copper braided mesh. Customizable in 106% IACS pure silver braided mesh at additional cost.
Cryogenic treatment is optional at additional cost.
Cable OD – 03.0 mm
Highlights
Why the Audiocadabra™ Xtrimus™ Solid-Silver CoAxial Cables are ideal:
24 AWG (0.50 mm) 106% IACS pure solid-silver conductor.

Double shielded with silver-clad copper braid for superior RFI immunity.

Built-in dampening mechanism to reduce mechanical vibrations.
Proprietary Teflon cables exclusive to our catalog.
Teflon dielectric manufactured and sheathed to specification.
These cables are custom manufactured to the highest quality standards.
Teflon has the best dielectric properties of any known flexible insulator.
Low dielectric coefficient number of just 2.0.
Excellent choice for hi-end audio and video equipment.
Inert to most chemicals & fluids even at high temperature & pressure.
Good mechanical strength & flexibility.
Excellent resistance to corrosion and moisture.
Can be used in any environment.
Resistance to UV radiation & stress cracking.
Non-Flammable, they propagate neither fire nor flame.
Resistance to solder iron damage.
Lifetime warranty, just post back for repairs.
Free worldwide shipping.
Turnaround Time
Typically within 05 business days and sometimes a bit longer. The EDD (Estimated Date of Dispatch) will be mentioned in the order confirmation email. EDD is subject to quantity, availability, customization and back-orders.
Shipping
Enjoy free worldwide shipping with this order. This order qualifies for a free shipping upgrade to Express Mail Service (EMS). This free upgrade is valid only for countries covered by EMS. Faster shipping upgrades are available and can be selected using this—LINK.
Kindly contact us, should you need any further information about any of our products, using this—LINK.