Akiko Audio Triple AC Enhancer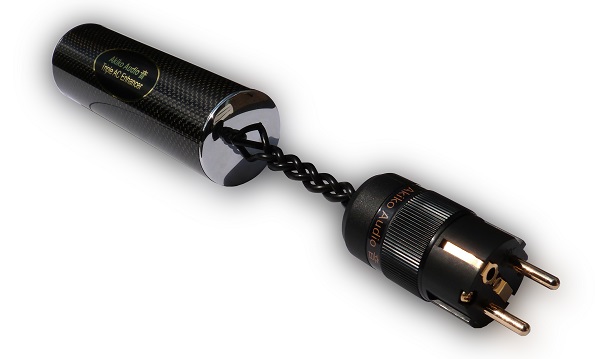 A newly developed premium product that ensures cleaner power for your audio system. There are three compartments inside with three new active materials and they are held together in a stylish housing made from woven carbon and stabilised with black resin to suppress unwanted microphonics. The Triple AC Enhancer is the high end premium version of the Akiko Audio Tuning Stick AC.
The metal foil sticker that is used on this product has been energetically treated; comparable to WA Quantum products. This works because we applied new discoveries in the field of high frequency noise suppression. The Akiko Audio Triple AC Enhancer's effectiveness has also been demonstrated through measurements: suppressing high frequency noise leads to a more pleasant music rendering in the audio spectrum.
Furthermore, each Tuning Stick is designed and made by hand in Akiko Audio's studio in Maastricht. All Akiko Audio products are handmade in Holland!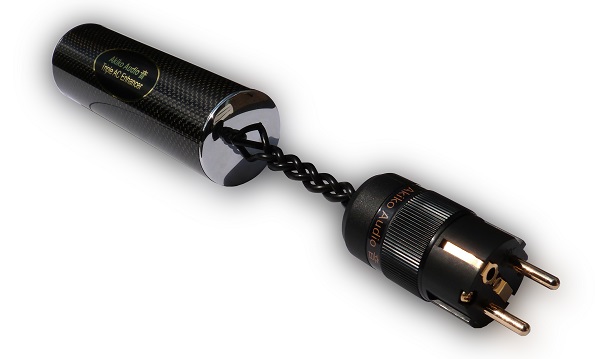 Improvements
Analogue sound: immediately audible; not subtle!
Music is experienced as more natural and cleaner.
Remarkable improvements of the voice rendering; fuller sounds and less troublesome 'S' sounds.
Implementation
In the power strip, where the equipment is also connected.
In the socket, where the equipment is also connected.
Specifications
The wiring of the Triple AC Enhancer is solely connected to the grounding, which is absolutely safe.
The product does not contain any metals, ferrite or power filtering on the inside.
Audio-grade Akiko Audio Copper AC Plugs.
Carbon housing length: 160 mm.
Total length: 330 mm.
Weight: 650 grams.
100-250 volt.
Available with US NEMA, EU Schuko, UK BS 1363 and Swiss SEV 1011 plugs.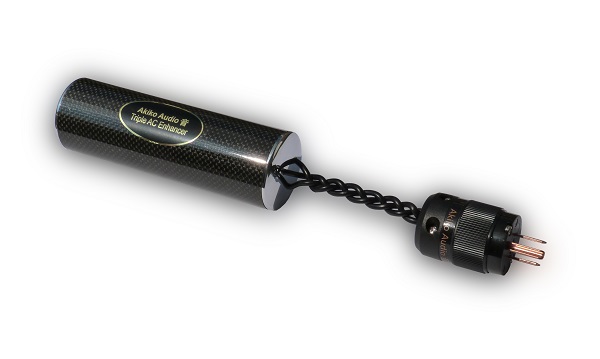 Shipping
Enjoy free worldwide 'international registered shipping' with this order. This special offer is valid for a limited period only. For any queries kindly contact us and we are more than happy to assist you.
Payment
You have a choice between using your Credit Card or PayPal account. Select your payment method at the checkout screen.
Ordering
Buy a single Akiko Audio Triple AC Enhancer for just USD 319. For any queries kindly contact us and we are more than happy to assist you.