Akiko Audio Tuning Stick RCA Mkll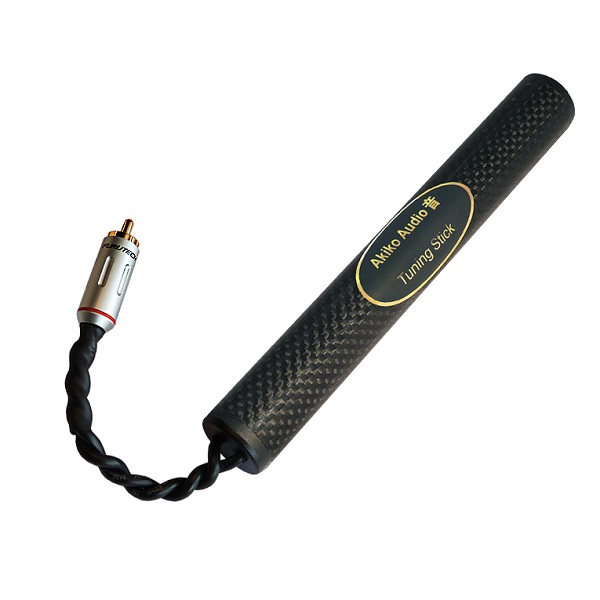 Akiko Audio's goal was to develop a Tuning Stick RCA MkII that could exceed the existing models of other brands and their own former Tuning Stick RCA. The Akiko Audio Tuning Stick RCA MkII has two twisted copper conductors, Furutech RCA connector and improved content for better effectiveness. The Tuning Stick RCA is based on a privileged technique and is absolutely unique in the high end accessories market. It all came to be by consistently applying know techniques and new insights, in the areas of crystal patterns, paramagnetic and piezoelectric properties of natural raw materials. This is all brought together in a stylish housing of woven carbon, a modern material, capable of enhancing the properties of these materials even further.
The Tuning Stick's contents are stabilized with black resin, a material which sufficiently suppresses microphony effects. This is an important condition for a calm and pleasant rendering of the music. On top of that the fine metal foil sticker is energetically treated, which causes it to contribute on a sub molecular level. This is comparable to the WA Quantum products, also available in our web shop. Because of this all Akiko Audio Tuning Sticks have an excellent value for money. Furthermore, each Tuning Stick is designed and made by hand in Akiko Audio's studio in Maastricht. All Akiko Audio products are handmade in Holland!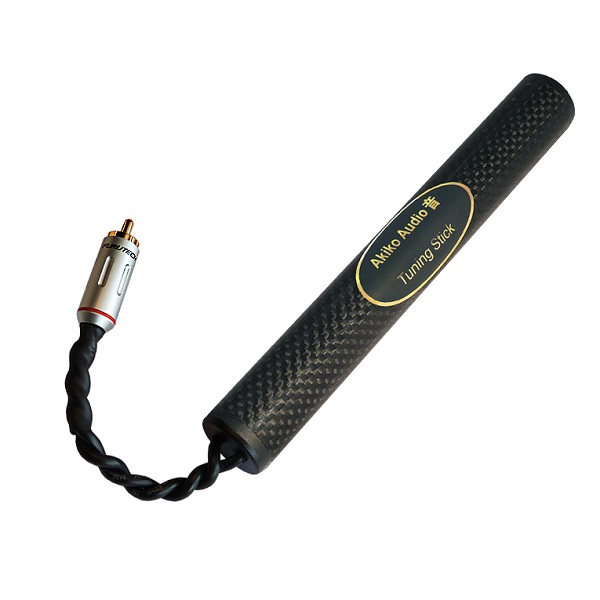 Four versions of the Tuning Stick MkII is available in—AC, XLR, RCA and Universal, each with its own composition and specifically designed for its task in the audio/video setup. The Tuning Stick's dimension is 150 mm x 22 mm.
Implementation
In an unused RCA input or output of your amplifier, player or streamer, for example. The RCA is similar to the Tuning Stick AC, but we have adjusted the composition since this Tuning Stick is located in the immediate vicinity of your equipment. Enhancing the grounding, directly behind the device, can lead to an enormous increase in audio quality. The Tuning Stick RCA MkII comes with a firm, short connection and a high quality RCA connector. It is, again, more natural, with a remarkably finer vocal display, which makes this our personal favourite.
Shipping
Enjoy free worldwide 'international registered shipping' with this order. This special offer is valid for a limited period only. For any queries kindly contact us and we are more than happy to assist you.
Payment
You have a choice between using your Credit Card or PayPal account. Select your payment method at the checkout screen.
Ordering
Buy a single Akiko Audio Tuning Stick RCA MkII for a special discounted price of just USD 159. For any queries kindly contact us and we are more than happy to assist you.