Akiko Audio USB Tuning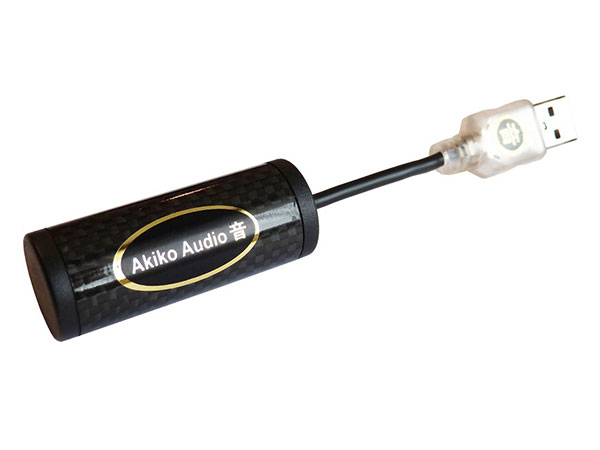 Many music lovers use a computer in their high end audio system. A desktop computer or laptop however, is not designed for optimal music rendering and causes many interferences due to electromagnetic radiation, the way they are constructed (everything is built within one housing) and especially due to a poorly designed switched-mode power supply.
The Akiko Audio USB Tuning is capable of reducing the high frequency electromagnetic noise, making the signal transmission more accurate. The design consists of an ingenious mix of natural minerals connected to an internal antenna for high frequency radiation that is stabilized with special black resin and suppresses microphonic effects.
The Akiko Audio USB Tuning has a stylish and compact housing made from woven carbon, a modern material that is capable of enhancing the properties of the used materials even more. In addition, the USB Tuning is also provided with an energetically treated 10mm chip.
Technical measurements have proven that Akiko Audio's Tuning products work. Suppressing high frequency interference enhances the music rendering in the audio spectrum, which is considered a pleasant improvement.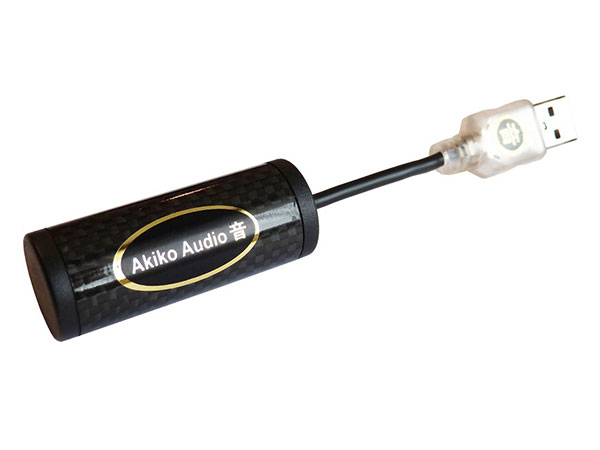 Implementation
In an unused USB input of your computer, streamer, NAS or DAC.
A computer causes unwanted interferences in a system; a higher noise floor causes a sharp and nervous sound which lead to listening fatigue.
The USB Tuning creates a cleaner rendering in the audio spectrum, making your digital music more enjoyable. Applying one or two Akiko Audio USB Tuning devices in a computer audio system reduces the noise, enhances the natural sound and creates a more noticeable and finer voice rendering.
The USB Tuning has been especially designed for the audio fan, who likes to use his computer as the source, but mostly just wants to enjoy a relaxed and fair rendering of his favourite music.
Specification
Housing measurements: 55mm x 22mm
Internal and external copper wiring
Sturdy metal USB connectors with plated contacts
The Akiko Audio USB Tuning is handmade in the Netherlands
Provided with an Akiko Audio 10mm chip
Every USB Tuning is carefully packed. The USB Tuning can be combined with the other Tuning products. Especially recommended together with the Triple AC Enhancer or Tuning Stick AC MkII. Using multiple products improves the results.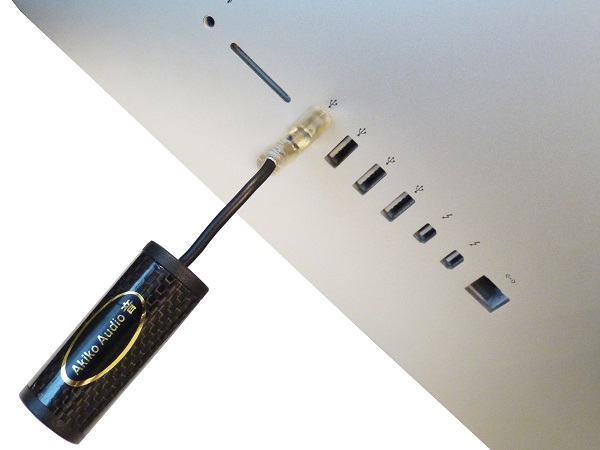 Shipping
Enjoy free worldwide 'international registered shipping' with this order. This special offer is valid for a limited period only. For any queries kindly contact us and we are more than happy to assist you.
Payment
You have a choice between using your Credit Card or PayPal account. Select your payment method at the checkout screen.
Ordering
Buy a single Akiko Audio USB Tuning for just USD 139. For any queries kindly contact us and we are more than happy to assist you.