Rethm Saadhana Loudspeakers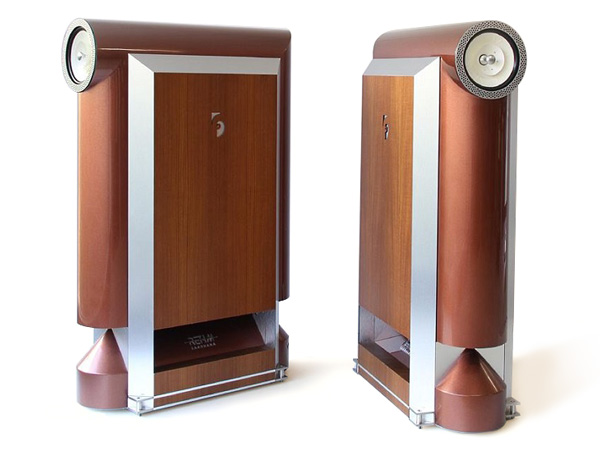 Rethm is a globally renowned award-winning brand that specializes in custom handcrafted loudspeakers using single-driver horn loaded technology augmented with precisely matched bass modules. Rethm uses state-of-the art designs with high quality custom-made audio-grade parts to create highly sensitive loudspeakers that can be paired with a wide range of solid state and vacuum tube amplifiers for a truly enthralling listening experience that conventional loudspeaker designs simply cannot match regardless of price. Rethm is synonymous with innovation, quality, performance, sophistication and value—their loudspeakers may be customized to match any décor and setup.
There is one unifying conceptual thread that runs through all of Rethm's products, and that is: they will bring a product to the market only if it is something uniquely different from the competition and only of it can be sold at "real world" prices. Here we present Rethm Saadhana Loudspeakers. These level-3 custom handcrafted award-winning loudspeakers are an ideal choice for seasoned audiophiles.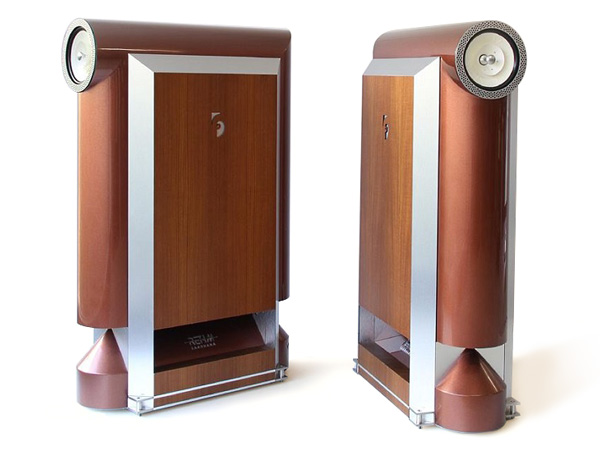 Saadhana is a Sanskrit word that means 'disciplined and dedicated practice/learning, especially in religion or music'. Rethm's flagship model was designed to deliver a no-compromise performance that epitomizes all the attributes that Rethm Loudspeakers are known for. The tonal purity, the coherence, the dynamics, the imaging that only great wide-band high-efficiency designs are capable of exhibiting in its quest to get to its reason-de-etre—the natural, eerily realistic portrayal of performances that immediately enables an emotional connection between listener and music.
The Saadhana moves the performance up yet another level. And the heart of his exceptional loudspeaker is the new custom-made 7 inch wide-bander. This driver delivers an unbelievable midrange and, belying conventional wisdom, an even better high-frequency reproduction than its smaller siblings. And, it of course reproduces frequencies all the way down into the midbass region. Rethm has found that larger diameter wide-banders tends to reproduce a more natural, liquid and flowing midrange. There are limits to this rule as well of course…. and beyond a certain size, high frequency performance is bound to be affected.
As this was a total redesign from ground up, Rethm took the opportunity to make this a "one-box" design… and eliminate the several problems their previous two-box units had in terms of user-friendliness. The completely redesigned bass section has three 7 inch custom designed bass drivers set in a unique double-isobaric system, with the last drivers loading a 4 foot long horn to increase acoustic output and dynamics. The bass is powered by a 120 wpc amplifier in each enclosure, and has a volume control. It also incorporates a low-pass filter that is continuously variable between 75hz and 150hz. This user adjustable filter combined with volume attenuation allows for total control of bass integration in virtually any room. While all their loudspeakers have similar attributes, and hearing any one of them will tell you it is a Rethm, the Saadhana just takes each of these attributes to its highest level with higher and smoother highs, a beautifully detailed and yet refined midrange, and extremely deep and authoritative bass…… which all comes together to get one even closer to the music.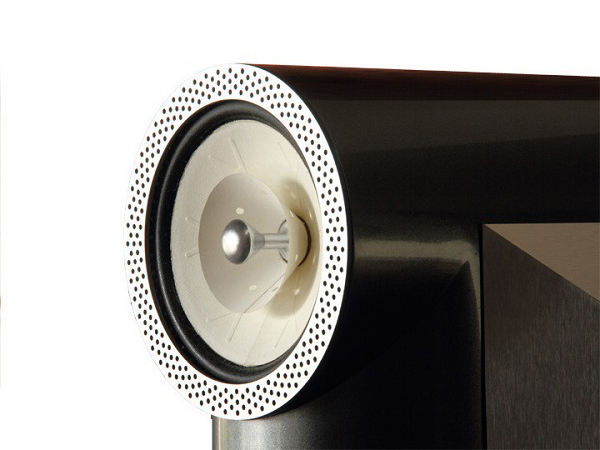 Technology
Rethm subscribes to the belief that all truly great design embodies an "elegance"—conceived in simplicity. A full range driver is such an example within the realm of music reproduction. Loudspeakers designed around this concept are capable of an aural magic like no other—if done right.
The standard list of transgressions that multi-driver speaker systems are guilty of perpetrating:
Phase shifts introduced by crossovers.
Colourations, a subtle veiling and power loss that are endemic to crossovers.
Lobing and other wave interference anomalies produced by multi-driver arrays.
The difficulties of tonally matching multiple drivers of varying size, materials and design.
And the effect of the above? In a word: "In-coherence". Rethm's goal was to take the wide-band configuration to the ultimate limits of its potential. Rethm uses only very high efficiency paper-cone drivers in their loudspeakers. The high efficiency contributes speed (which translates into detail and transparency) and spectacular dynamics (both macro and micro), while the paper imparts a tonal naturalness unmatched by other materials. And Rethm also believes that both these attributes are crucial to the recreation of a believable simulation of "reality".
Sealed or vented boxes, naturally, impart a "boxed-in" quality to the sound. The horn-loaded enclosure (one of the earliest enclosure designs) if designed well, can eliminate this problem as it provides the driver with an unrestricted free-breathing environment which, while extending bass response, also allows it to retain immediacy and naturality. Although Rethm has chosen to adopt the horn-loaded enclosure as the basis for their loudspeakers, they have broken with traditional horn-load design principles and geometries, and invented their own.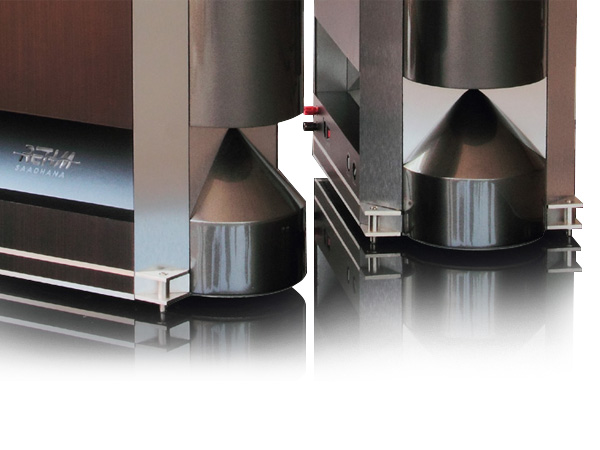 Highlights
Why the Rethm Saadhana loudspeakers are better than the best:
Reference level-3 loudspeakers using single-driver horn loaded technology.
Augmented with precisely matched in-built active bass modules.
Award-winning custom handcrafted loudspeakers.
Recommended for rooms up to about 800 sq.ft. (80 sq.m).
Cryogenically treated solid-core flat copper wires used internally.
Rethm's unique horn-loaded enclosure eliminates reflections and coloration.
Perforated driver surround rings to reduces upper-frequency reflections that plague the area surrounding the driver.
Transparency, resolution, speed, dynamics, soundstage, cohesiveness and articulation unmatched by conventional loudspeaker designs costing many times more.
Exemplary craftsmanship, build and finish atypical of this price point.
Sensitive loudspeakers that may be easily paired with a wide range of amplifiers.
Available in a choice of 04 user selectable colours, with appropriate wood veneers, to suit a wide range of décor/systems.
Available in a choice of either 115v or 230v options for the in-built active bass modules.
May be ordered in a pair for music or in a set of 05 or more for movies.
Shipped securely in factory palletized cardboard with foam liners.
05 years warranty.
Specification
Full range driver: Custom designed 7 inch cone w/whizzer
Horn loaded labyrinth: 2.2m ( 7″ – 4″) length
Bass drivers: Custom designed (3 units per enclosure) 6.5 inch cones
Bass sealed isobaric chamber: 18,4 lit. volume
Bass labyrinth: 1.4m ( 4′ – 8″ )
Bass module amplification: one monoblock per enclosure (FET amplifier)
Bass amp max. output: 210 wpc @ 4 ohms.
Loudspeaker sensitivity: 102 db/w/m
Nominal impedance: 8 ohms
Frequency response: 18 Hz to 20 KHz
Minimum amplification power: 2 wpc
Dimensions: H x D x W : 1040mm ( 3′-5″ ) x 730mm ( 2′-4 ½" ) x 215mm ( 8.5″ )
Weight per enclosure: 40 kg ( 88 lbs )
Shipping weight per set ( 4 cartons, plus palette ): 120kg ( 264 lbs )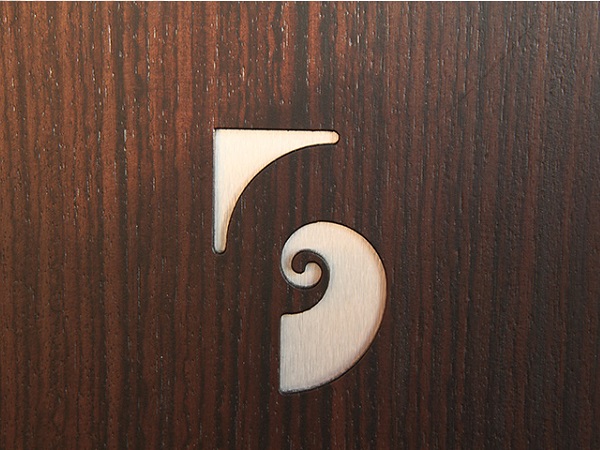 Credentials
Rethm's award-winning custom handcrafted loudspeakers have graced audiophile set-ups around the world. Here are a few credentials from the industry's most demanding critics:
"The end of practice. Ancient Hindu deities are out on the town for a stroll. With 2013's Saadhana, the Indian firm's more than decade-long quest for a perfected full-range single-driver speaker has concluded. That it would incorporate an active triple-woofer isobaric bass system merely illustrates the designer's very hard-earned pragmatism. With modern music's bandwidth, one driver can't do it all. Linearizing the breed's presence-region response without castrating its well-known side benefits, then giving it brass cojones of serious heft and doing it all in a single box of friendly dimensions, the Saadhana's apprenticeship in the widebander milieu has matured to full mastery. It's the perhaps first speaker of its kind to be unaccompanied by the usual qualifications except for that of proper amplifier matching. That remains critical. Here 100dB efficiency makes for more unusual but very effective choices which aren't restricted to valves. Bass integration is superb and finally also ticks off the ability to do kick drum properly violent justice. The twin-cone main driver of course remains more directional so most listeners will fire it straight out. This also defines speaker width versus listening distance. Whilst the speaker can play very loud and its bass system has proper headroom to keep up, greater real-world relevance is what happens at the very shallow end of the SPL pool. Even without an airtight listening room bunker, the family can already be asleep while you continue the music. This speaker retains good visibility even in dim candle light as it were. Apartment and townhouse dwellers take note. This could have your name on it. And because one of the first things to go awol at low levels is bass, Rethm's active system is the antidote. Just open the bass attenuator a click or two.
Amongst market alternatives, neither PHY-based competitors nor Voxativ have yet embraced active bass to compete on bandwidth. The only direct alternative I know of will be the soundkaos Wave 40. Its pending Subwave 30 mate replicates Rethm's recipe but with external woofers and outboard bass amps for more placement options. Should you desire fewer rather than more boxes and a meatier upper bass/midband than either Trisha or Maarga manage plus bass reach and power they can't touch, the Saadhana for now seems to have no natural predators or enemies. It sits at the very top of its particular food chain. No rain on Ganesha's head today!
Postscript: On April 11th potential Rethm dealer Kurt Bühler and a client drove from Bern to Villeneuve to audition the only pair of Saadhanas in Switzerland before it made tracks to Monaco. They expressed particular surprise over its gargantuan soundstaging sitting less than 3 meters removed. Kurt who's heard a number of widebanders over the years to accord them specific advantages always accompanied by equally specific demerits concurred that here we had one which didn't suffer the usual liabilities in the expected ways. It's simply that compared to standard speakers faint echoes of speed-related whitishness remain. That's the price to pay for this degree of informativeness. It's precisely why the softening action of valves has become such a go-to recommendation for the breed. The type of very thin paper required to achieve 100dB efficiency creates a certain sharpness which is best complemented by valves. Slightly heavier thicker paper as used by the less efficient Enviée driver of soundkaos becomes more suitable for ultra-fast transistors. By the time one arrives at the even heavier paper of the Zu/Eminence driver, yet more varied amp options open up."—Srajan Ebaen, 6Moons, Switzerland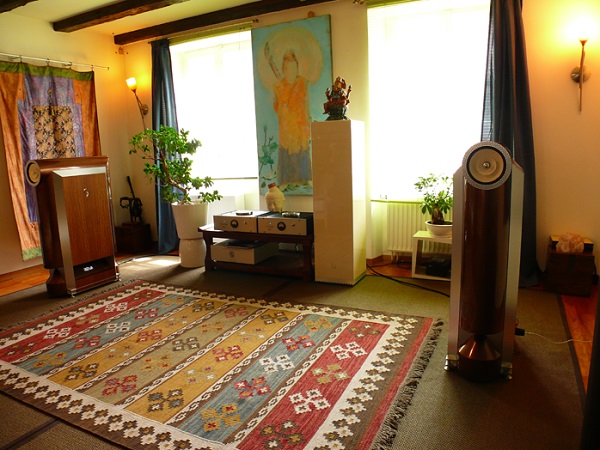 "The Rethm Saadhaha loves you to listen to it. It will do everything in its power to caress you and seduce you for hours on end into thinking your listening to the most heavenly music on this planet. If you listen to a lot of vocals, the Saad's midrange is so pure and holographic…well, it just loves vocals. Strings, too. Small ensembles to the grandest Mahler is taken in stride and projected into a voluminous soundstage that is amazing – and you don't need to spend hours adjusting them "just right". The bass controls will let you tune the bottom to your room, though.
If you listen with a partner, the wide sweet spot is ideal for 2 or more. It will certainly rock, and do it loud. And it sips wattage like a Prius sips gasoline. At 98 db sensitivity, pick an amp. Any amp. There is no better speaker to use with small output SET amps, in our opinion. Give it 20 watts and the things will give you dynamics that will thrill even in large rooms while nerver being harsh. Good transparency, but some more expensive will give you more. Women seem to dig 'em. The smooth sound appeals to their more sensitive ears.
Be prepared for a long break in time. Designer Jacob George hasn't solved that problem yet. Made in India, but not sent offshore. Jacob is a native of India and commutes between there and the US when necessary. This speaker, we believe, would cost much more made almost anywhere else. The craftsmanship is beyond superb.
If you like (or think you like) a more aggressive, hyper-detailed, studio monitor type sound, these will probably not satisfy you. While they go extremely low into the 20's, they probably won't be a favorite of the boom-boom crowd. The bass is musical, not boomical.
If you value audiophile talking points over natural sounding music makers, you should probably look elsewhere.
Oh yes…and if you're into spending super big bucks on megawatt amplfiers, buy something else. Or sell them and buy a good 20 watt tube amp and you'll believe you are running 1,000 watts with the Saad's."—James Darby, Stereo Mojo, USA
"Perhaps less significant but equally obvious is the matter of aesthetics: As with every other Rethm loudspeaker I've seen, the Saadhana's very Bauhaus design gives it a distinctive appearance—one that, again, you'll either like or dislike. It has an undeniably modern look, yet I found myself more drawn to it than I am to most modern furnishings. In my smallish listening room, the predominantly reddish-brown Saadhana jelled nicely with my cherry floorboards, blue walls, and Indian Mahal carpet. I wouldn't expect it to work equally well with all décors, but that's not for me to say.
When I asked Jacob George to explain the speaker's name, he told me that the life of an Indian classical musician goes through three stages: Maarga, during which the musician searches to determine what his or her musical voice shall be; Saadhana, the years in which the musician devotes the most time and effort to perfecting the craft; and Moksha, which is the attainment of artistic salvation and enlightenment.
Appropriately, Rethm's current entry-level loudspeaker is named Maarga. Just as appropriately, Jacob George has yet to achieve his Moksha—the realization of which will take him a good deal more time. Meanwhile, George and Rethm are working on still other projects—including a turntable with a drive system the like of which has never been seen in domestic audio—and slowly but surely perfecting their craft."—Art Dudley, Stereophile, USA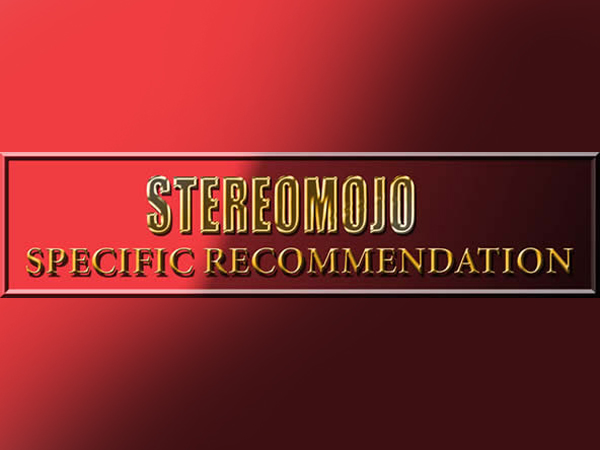 Shipping
Enjoy free worldwide 'international insured shipping' with this order. This special offer is valid for a limited period only. For any queries kindly contact us and we are more than happy to assist you.
Ordering
If you're ordering from a country where Rethm already has a distribution, please contact your local reseller first. When you buy from Audiocadabra™ you are guaranteed to pay less for more. Our prices are simply unmatched! Buy a pair of Rethm Saadhana Loudspeakers for a special discounted price of just USD 13999 (List price is USD 15750). This special offer is valid only till stocks last. For any queries kindly contact us and we are more than happy to assist you.