Audiocadabra Maximus Handcrafted Jumper Cables
Buy the Audiocadabra Maximus Handcrafted Jumper Cables for just USD 79 a stereo pair.
Upgrade your listening experience with Audiocadabra custom handcrafted audio cables and accessories! We are delighted to present to you the Audiocadabra Maximus Handcrafted Jumper Cables, our level-1 audio-grade jumper cables, that are crafted with carefully selected 99.99% pure stranded-core copper conductors sheathed in PTFE (a.k.a. Teflon) and terminated with high-performance silver-clad pure copper spade connectors.
Audiocadabra Maximus Handcrafted Jumper Cables are our starting point that offers higher than expected sound quality than the competition. They are a good choice for audiophiles on a budget.
A set of 04 Audiocadabra Maximus Handcrafted Jumper Cables which will enable upgrading/replacing your stock solid brass speaker jumpers.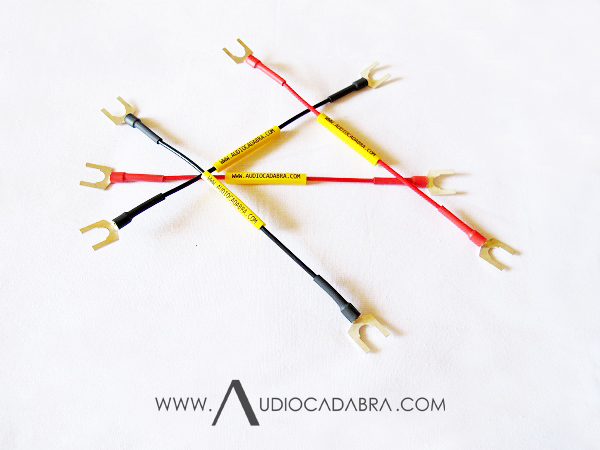 Highlights
Why the Maximus™ Jumper Cables are better:
Our level-1 audio-grade jumper cables that uses pure copper from tip-to-tip.
Solder-less and brass-less high performance cable design.
Handcrafted cables with proprietary Teflon wires and high-performance connectors.
Terminated with low-mass Audiocadabra Silver-Clad Pure Copper Spade Connectors.
Fits all terminals that accept spades.
Select between 04 different lengths at no additional cost.
99.99% pure multi-strand copper conductors sheathed in PTFE.
PTFE (a.k.a. Teflon) dielectric manufactured and sheathed to specification.
Carefully selected oversized conductors and geometry for maximum signal flow.
They are not the same as fancy looking and lesser performing cables.
These cables sound more open and transparent than expensive mass-market brands.
Great for any stereo or multi-channel speakers.
Instantly improves your home audio or home theatre experience.
Neutral sounding jumper cables that is faithful to the original signal.
Eligible for future upgrades and regrades.
Lifetime warranty, just post back for repairs.
Free worldwide shipping.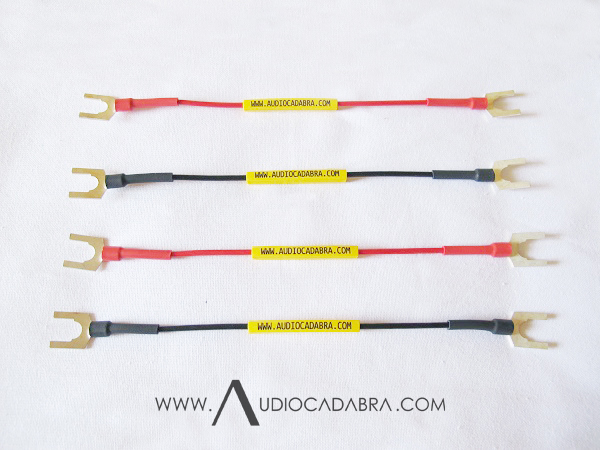 Implementation
Remove your existing speaker cables and stock solid brass/after-market jumpers.
Clean/dust the speaker binding posts with a dry cloth.
Place the Audiocadabra Jumpers red (+) and black (-) on the respective binding posts. If in doubt please check the speakers' user manual for correct usage.
Press the jumpers at its neck so that they form a shape and the spade connectors are absolutely flat at the bottom of the speaker's binding posts.
Place the speaker cables with spade connectors exactly above the Audiocadabra Jumper Spades (see picture below) and tighten all the binding posts.
The above step ensures that the signal passes the jumpers first and offers a very cohesive presentation.
For speakers cables with banana plugs just connect them as normal after the Audiocadabra Jumper Cables are installed.
For bare unterminated speaker cables, let the bare wire be placed above the Audiocadabra Jumper Spades before tightening the binding posts.
Connecting the speaker wires on the High Frequency (HF) or the Low Frequency (LF) speaker binding posts will surely alter/tip the spectral balance of the sound. It's best to follow the speaker manufacturer's recommendation as suggested in the user manual/website or you may follow what actually sounds best to you.
Shipping
Enjoy free worldwide shipping with this order. This order qualifies for a free shipping upgrade to Express Mail Service (EMS). This free upgrade is valid only for countries covered by EMS. Faster shipping upgrades are available and can be selected using this—LINK.
For any queries kindly contact us and we are more than happy to assist you.