ETI Audio Spade Connectors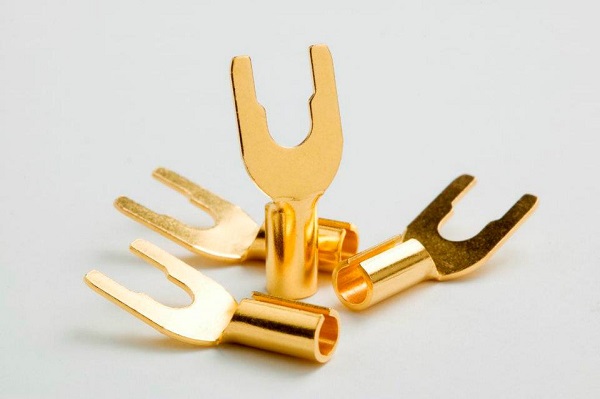 ETI Audio Spade Connectors, made of pure copper, give audiophiles the pleasure of surprising sonic improvement in resolution and musicality. This fresh design achieves musical supremacy amongst spade connectors through superior conductivity characteristics. The key elements to unlocking unique high performance are low mass, and streamlined geometry for steady, unimpeded electron flow and minimal EMF interference.
Clever engineering ensures the best Oxygen Free High Conductivity Copper (OFHC) is used. No aspect is compromised; these are the new reference standards for spade connectors. These reference spade connectors are available in Copper (with gold-flashing) or Silver (heavy-micro-plating over OFHC Copper base).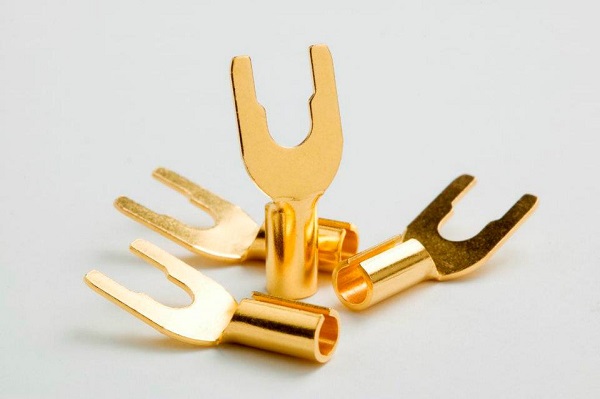 Highlights
No Brass, no Nickel. Clean, unrestrained conductivity for the purest listening experience.
Elegant geometry creates a low mass conductor for reduced capacitive & inductive reactance, while high strength polymer parts minimise EMF, EFI & RFI influences.
Low mass for reduced capacitive & inductive reactance.
A locking mechanism that is independent of the & the perfect single point of contact for transfer of an intact audio signal.
Oxygen-Free High Conductivity Copper (OFHC—Oxygen-Free High-thermal Conductivity) with Gold Plating or Silver plating.
Optimized mass, contact area, and thickness for reduced reactance, solid bass, and uninhibited electron flow for smooth detailed music reproduction.
Solder or crimp connection.
Geometry – Length and thickness optimised. The full signal is always transferred without loss or addition.
Mass – Optimised thickness and plating ensures seamless, fast signal transfer with no skin effect to be detected.
Metallurgy – The highest conductivity copper available – OFHC Copper. Innovative, industry-leading Silver microplating implemented by global leaders in the science of plating and conductivity.
Material – One, smoothly pressed conductor that will bond to wires with solder and crimp methods.
ETI Audio Spade Connectors provide your loudspeaker cables the best opportunity for high end performance.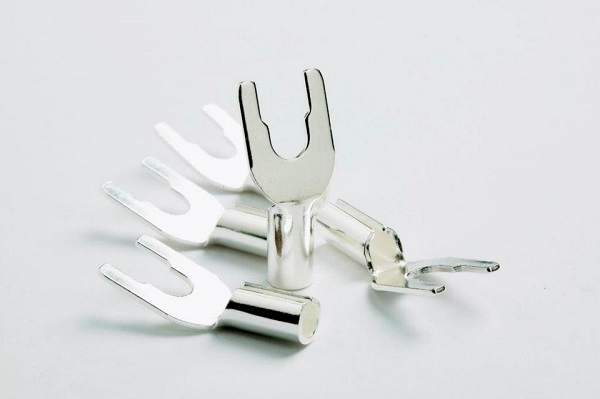 Shipping
Enjoy free worldwide 'international registered shipping' with this order. This special offer is valid for a limited period only.
Payment
You have a choice between using your Credit Card or PayPal account. Select your payment method at the checkout screen.
Ordering
Buy a set of ETI Audio Spade Connectors in Silver Plated Copper (OFHC) or in Gold Plated Copper (OFHC) starting at just USD 79. For any queries kindly contact us and we are more than happy to assist you.