Audiocadabra Ultimus 22 AWG (0.60 mm) Solid-Silver Hook-Up Wires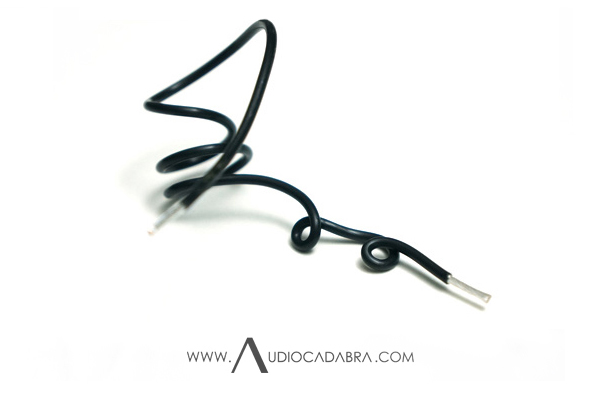 Buy the Audiocadabra Ultimus 22 AWG (0.60 mm) Solid-Silver Hook-Up Wires for less than USD 12 per foot. Kindly select from the most popular options listed below before adding to cart:
Unleash the emotion hidden in your music with Audiocadabra™ Ultimus Solid-Silver Wires. We are delighted to present our audio grade 106% IACS pure solid-silver wires that are sheathed in Teflon insulation. Audiocadabra Ultimus 22 AWG (0.60 mm) Solid-Silver Wires are formulated and tuned using only the finest materials and is now available to the DIY community and audio equipment manufacturers. Audiocadabra Ultimus 22 AWG (0.60 mm) solid-silver wires are custom manufactured using the highest quality materials and standards in the industry. You will not find better quality pure solid-silver wires at this value anywhere!
Audiocadabra Ultimus Solid-Silver wire is meticulously drawn through special dies and follows special handling standards to minimize any surface marring, before the insulation process begins. Our unique PTFE insulation method is very difficult to implement, and has taken several years to perfect, achieves a dielectric constant of less than 2.0. A perfect vacuum is 1.0. and by comparison, most mass-market cables are likely to use PVC which is likely to have a dielectric constant of up to 4.0. Perfect for your signal wiring needs such as interconnects, chassis signal wire, speaker cables or even speaker crossover wire.
Audiocadabra Ultimus 22 AWG (0.60 mm) Solid-Silver Wires are perfectly suited for your high-end audio needs with an insulation that is easy to work with and can be customized with a choice of Teflon colors, voltage rating and cryogenic treatment to suit your audio project needs. These audiophile grade solid-silver wires can be made available in pre-cut spools of 8 m (26 ft.), 50 m (165 ft.) or longer.
Customization
For MOQ of 50 m (165 ft.) or longer the following customization options are available for your business needs:
Default Teflon insulation is rated at 250v AC. Customizable up to 1000v AC.
Default Teflon color is white. Customizable in a choice of colors.
Cryogenic treatment is optional at additional cost.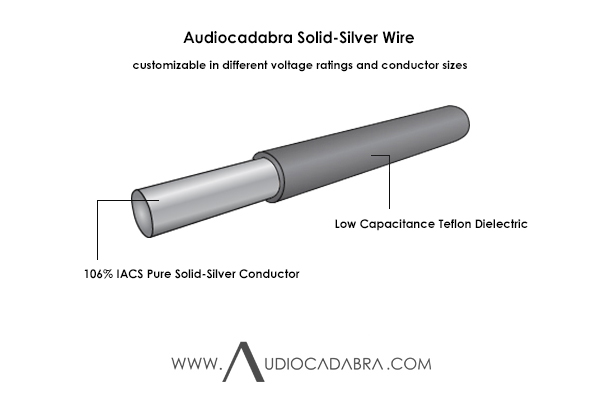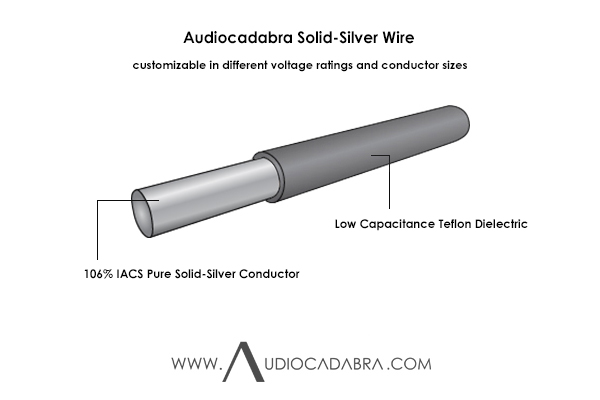 * For illustrative purposes only. Actual product may vary due to product enhancement.
Highlights
Why the Ultimus Solid-Silver Wires are ideal:
106% IACS pure 22 AWG (0.60 mm) solid-silver conductor.
Default Teflon insulation rated at 250v AC.
Default Teflon insulation color is White.
Customizable in different impedances and conductor sizes.
These wires are custom manufactured to specs using the highest quality standards.
Teflon has the best dielectric properties of any known flexible insulator.
Low dielectric coefficient number of just 2.0.
Excellent choice for hi-end audio and video equipment.
Inert to most chemicals & fluids even at high temperature & pressure.
Good mechanical strength & flexibility.
Excellent resistance to corrosion and moisture.
Can be used in any environment.
Resistance to UV radiation & stress cracking.
Non-Flammable, they propagate neither fire nor flame.
Resistance to solder iron damage.
Free worldwide shipping.
Shipping
Enjoy free worldwide shipping with this order. This order qualifies for a free shipping upgrade to Express Mail Service (EMS). This free upgrade is valid only for countries covered by EMS. Faster shipping upgrades are available and can be selected using this—LINK.
Kindly contact us, should you need any further information about any of our products, using this—LINK.